Getwear
Getwear has launched. It's an online designer jeans store, a new site made in the bureau art directed by me.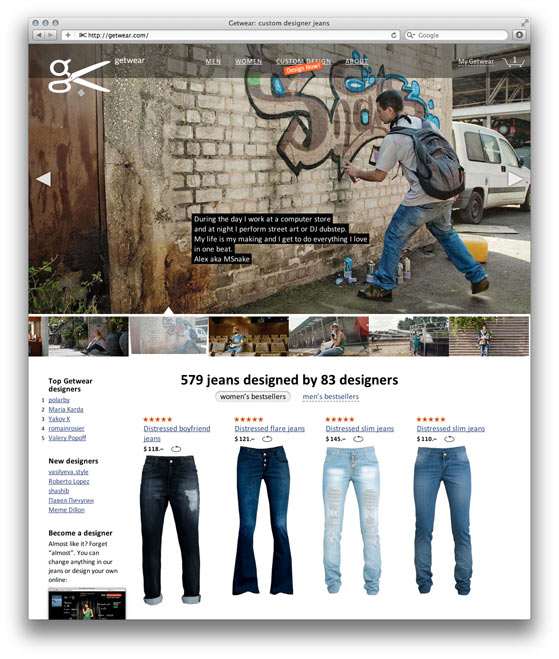 Select from a wide range of models or make jeans according to your taste in the Constuctor. Add embroidery, distress, draw flowers with a pumice, – or merely choose another style of back pockets. Buy the jeans for yourself, then put them on sale in the store. The best jeans get the most votes and end up on the front page, other visitors buy them and you get a cut of money.
The best feature is Custom fit. It's like having a personal tailor, except that you take the measurements yourself. The site helps you though: it guides you with instructions, pictures and videos. Then you add your special requests and order the jeans. Getwear will change your jeans free of change if they don't fit perfectly.
Also, we've designed the shopping cart right: you specify the delivery address right there and you see the real total below. Not some mythical "subtotal" value that will change after they add delivery later, as they do in other online stores. The real total, straight in the cart.
Try it here: getwear.com.
This was an incredible project. The task was great, the client relationship was great. We've used all the best work principles and we've followed the plan rigorously, even if it meant sacrificing some of the ideas. And we are content with the result. I sincerely wish Getwear all the best.
The project is another illustration of how pictures aren't everything. Even after every possible screen have been done in Photoshop, after every possible page has been marked up in HTMLs, we had had meetings several times a week and had exchanged mail like crazy. There were a lot of questions and decisions. The design questions and design decisions.
The time after everything has been almost done and when everything is almost ready for a launch is the time when most of these decisions are made. It's the time when you want the designers to be there. The clients who end their relationships with designers and think of design as "finished" before this crazy time are making a big mistake.