Paris
Ah, Paris!..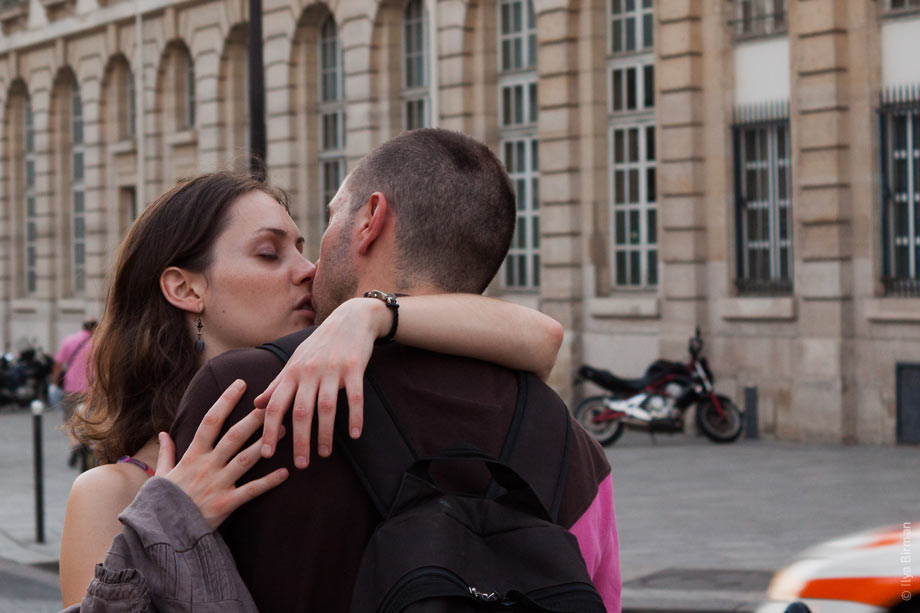 I have been in Paris once before, but only for a day and was not impressed. This time I decided to spend a bit more time to figure it out.
Paris looks dirty. Litter uglifies the city even when put into trash — instead of recycle bins, transparent plastic bags are used: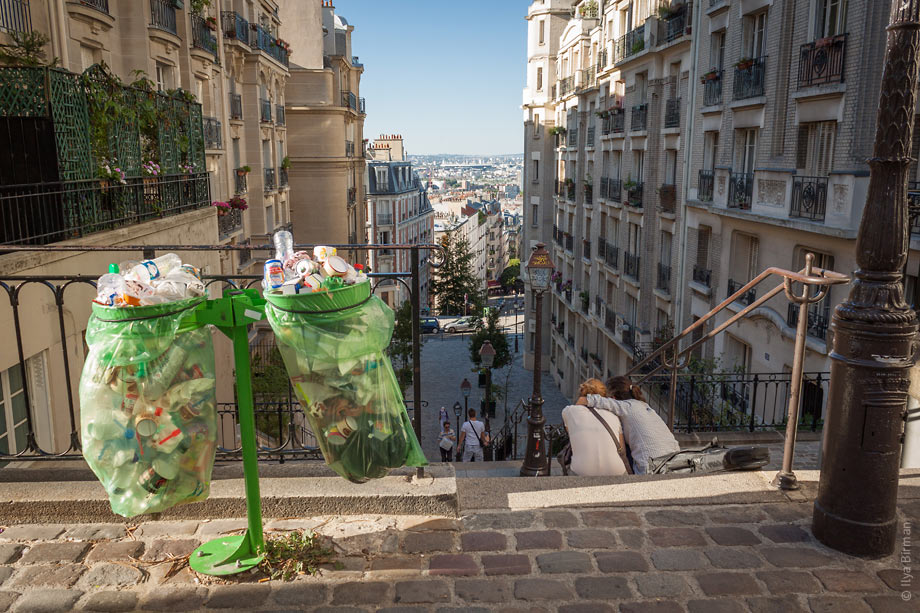 Parisians are also sad because of this cheerless fountain: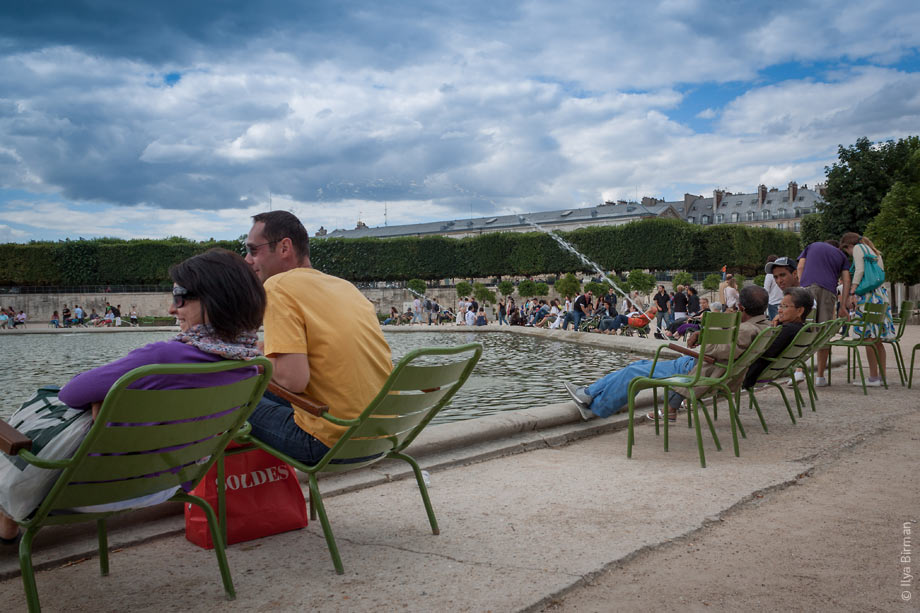 A man makes enormous soap bubbles: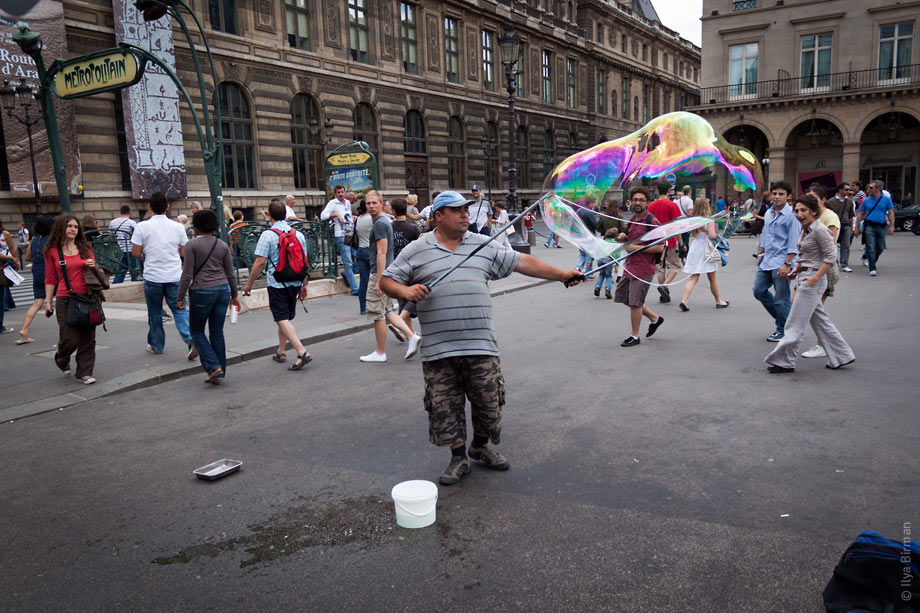 Street musicians play Vivaldi and chat at the same time: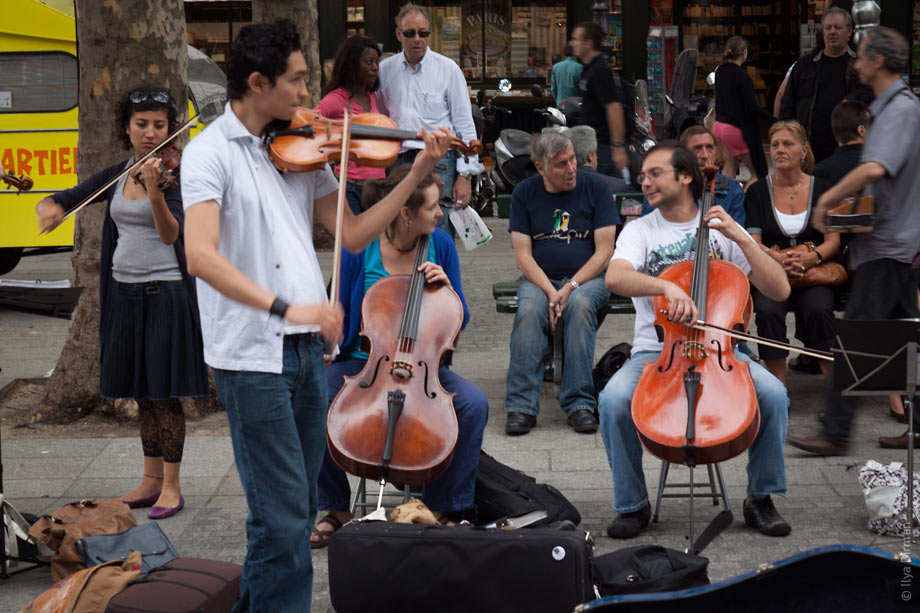 A strange sign is installed in Louvre: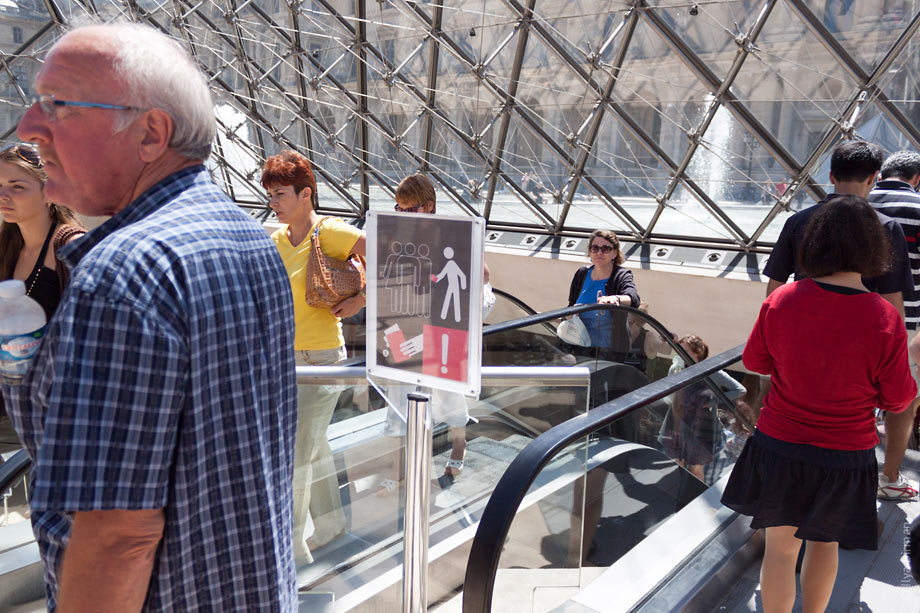 Père Lachaise cemetery looks like the world's largest phone booth show: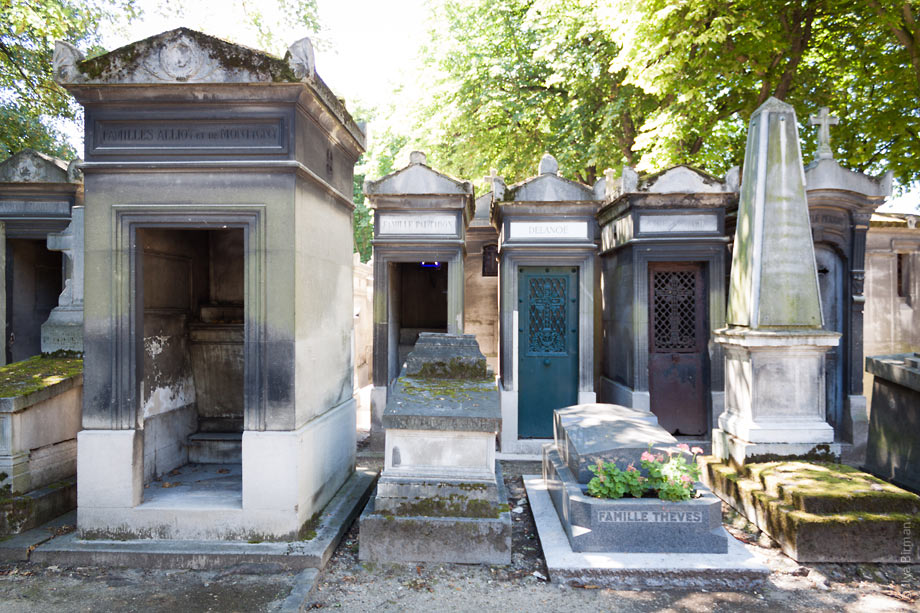 Flat display panels are mounted to the walls of Notre Dame de Paris: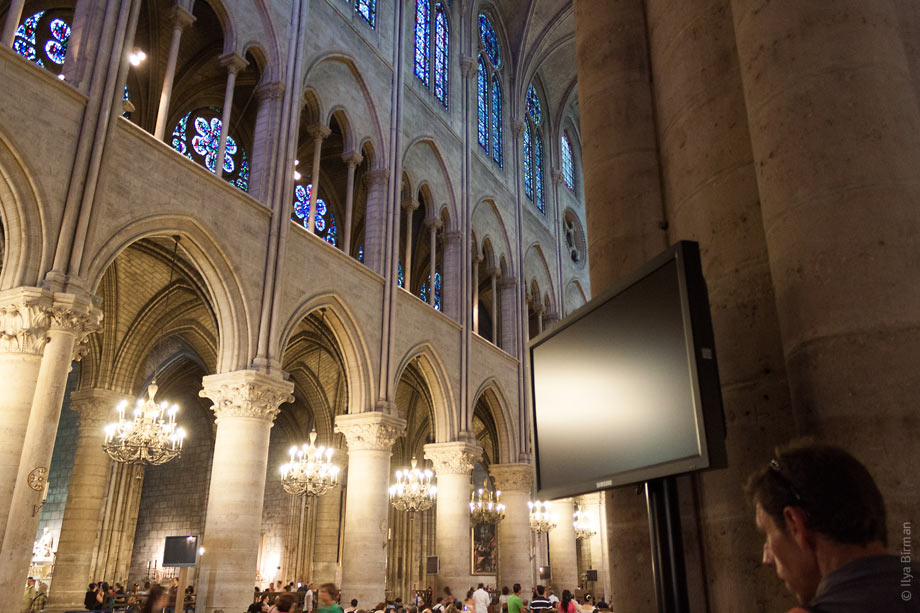 One of the Eiffel Tower pillars from inside: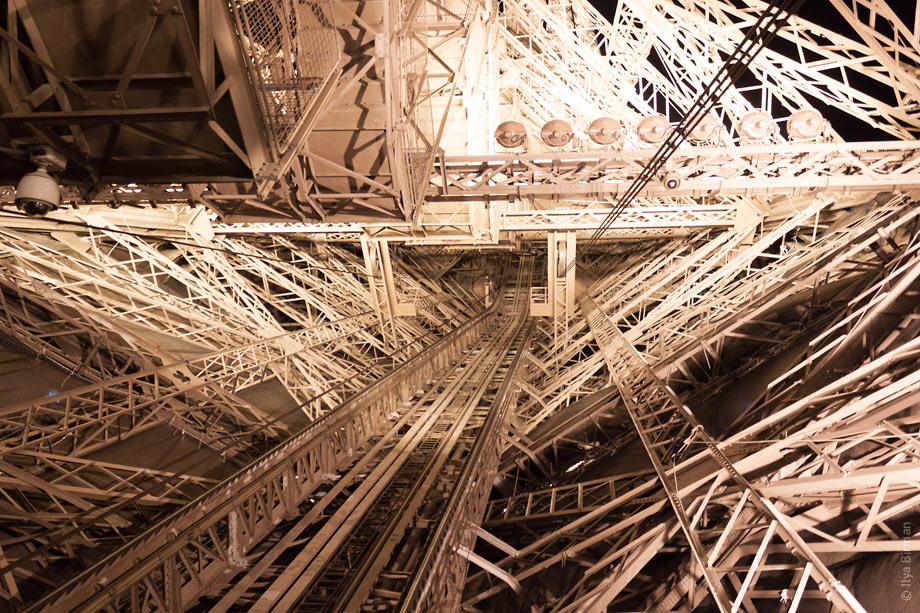 The tower is covered with shabby rags: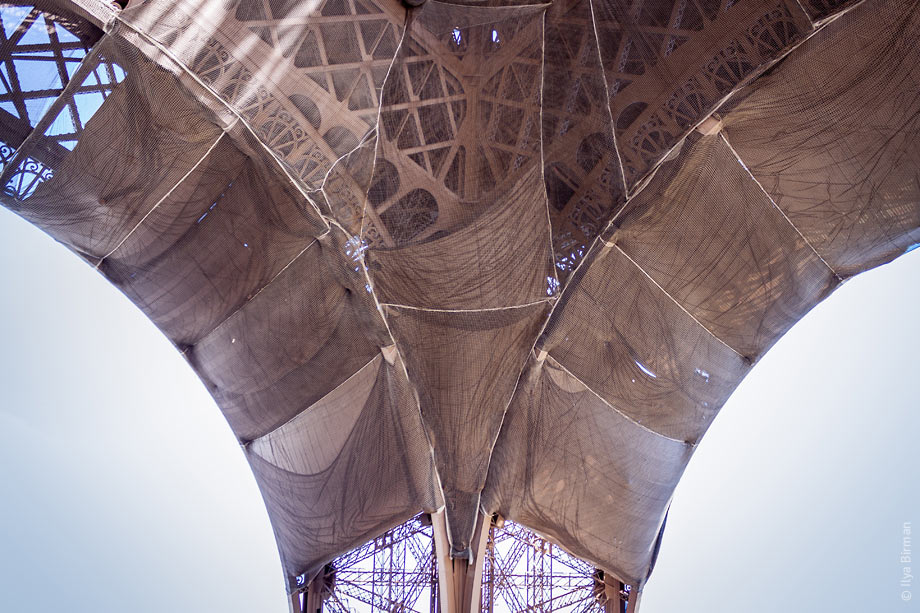 Underwear packaging: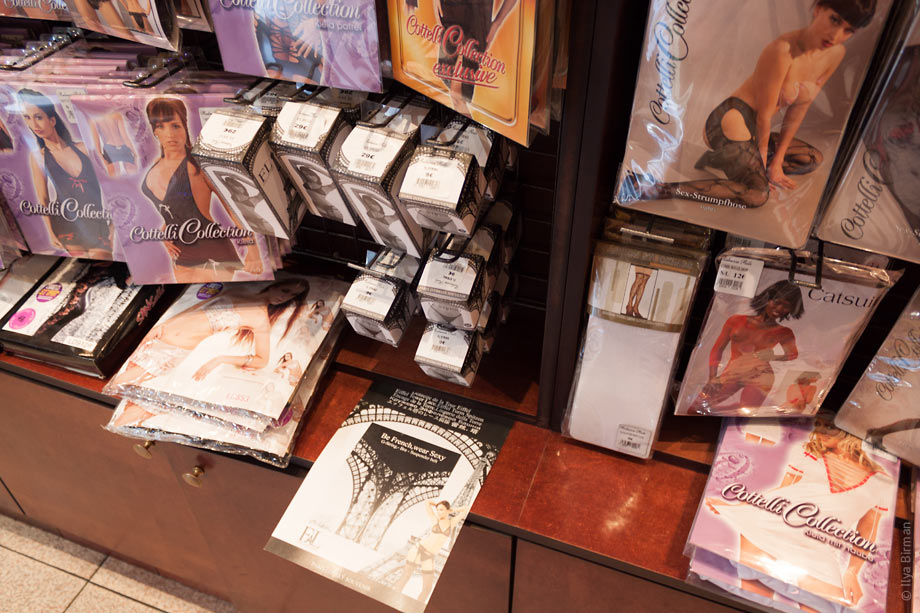 The view of Paris from the Sacré-Cœur basilica: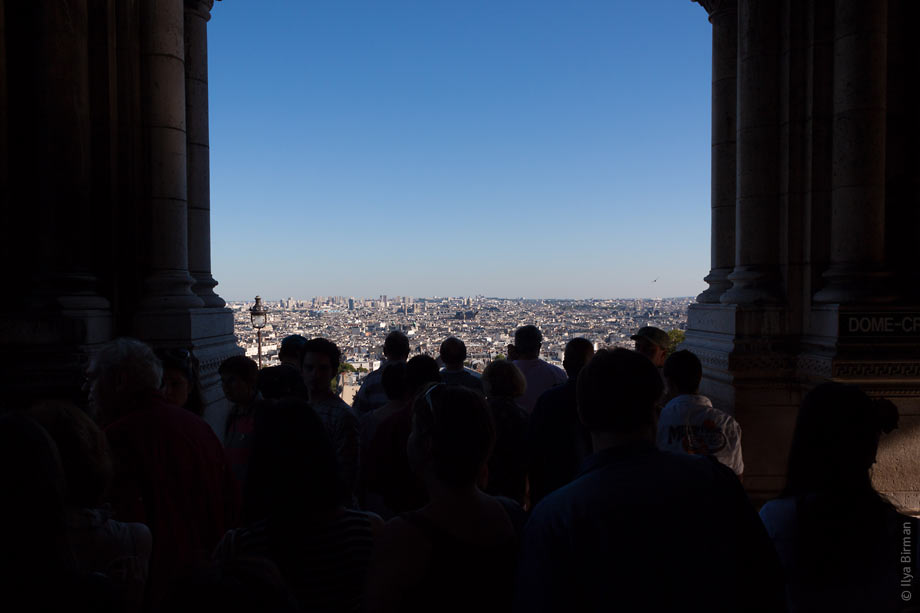 A monmartrobus is available on Monmartre: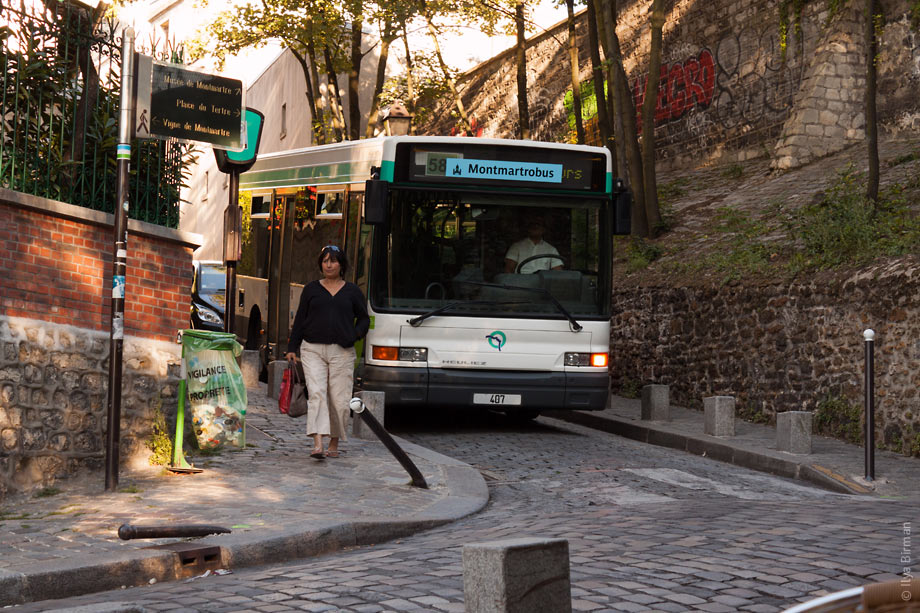 Even though Monmartre is a nice place to walk: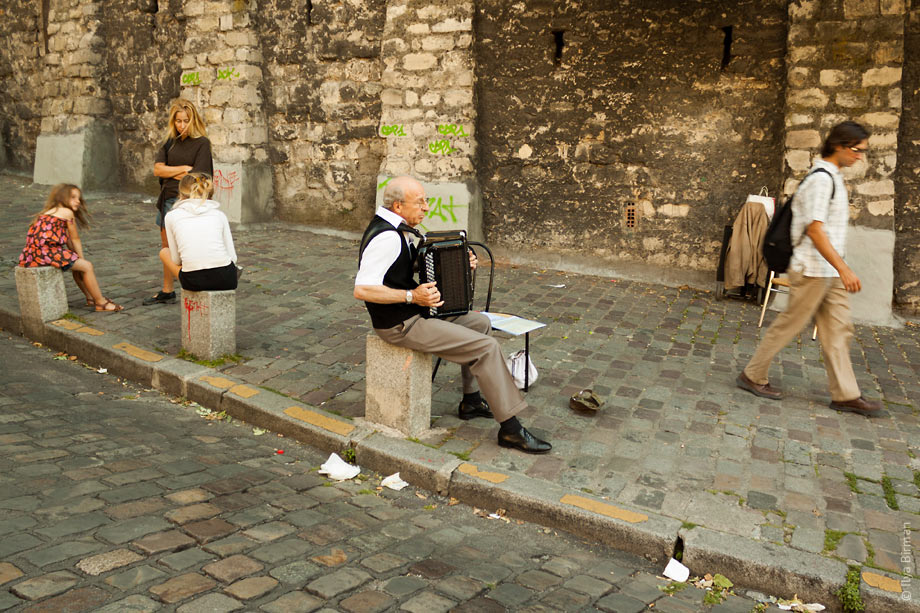 This café has outside seating on the opposite side of the road: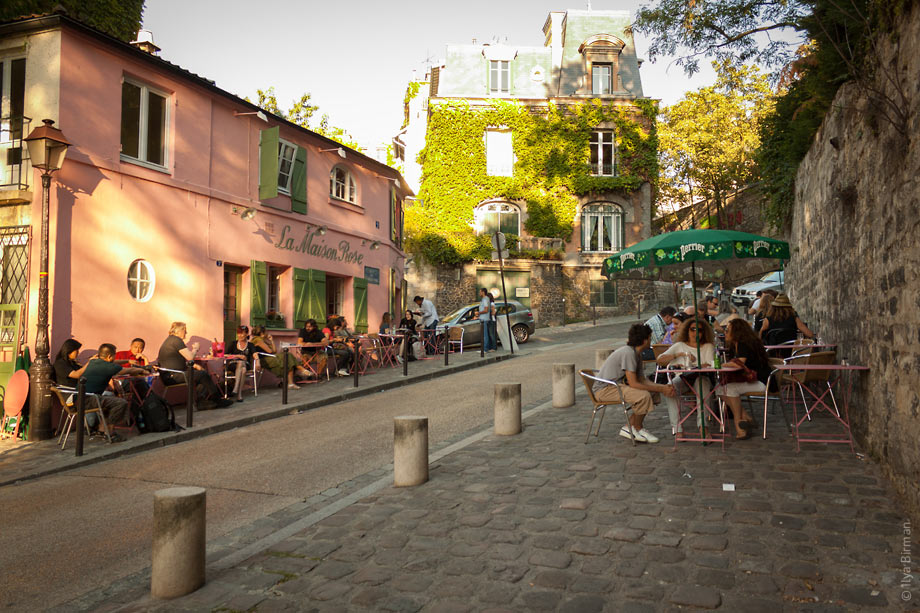 The waiters cross this road many times a day.
Mailbox: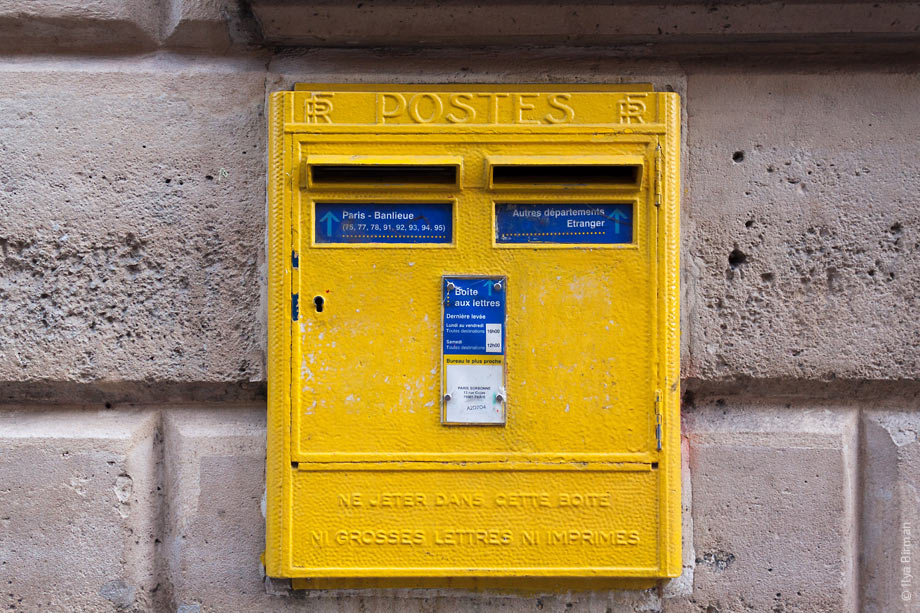 Manhole distance sign: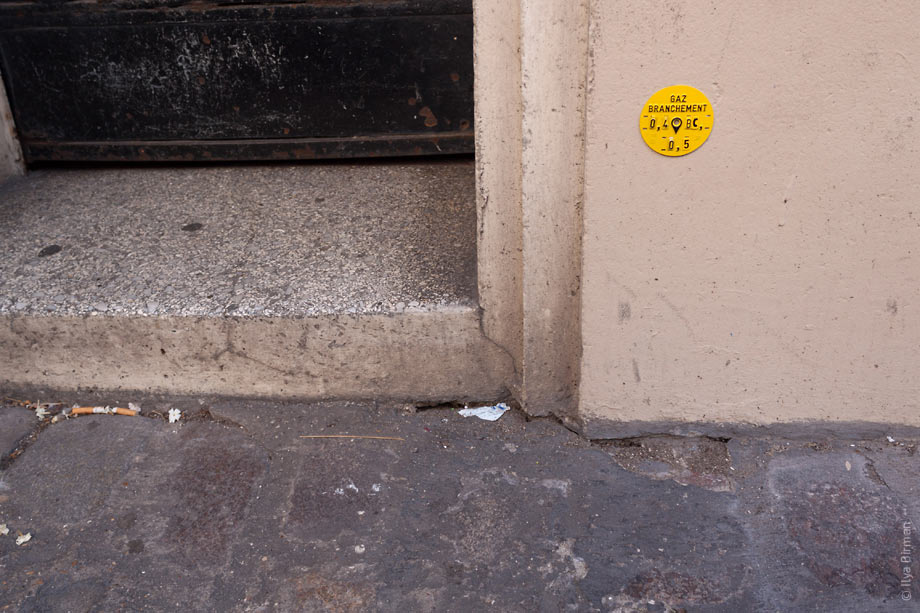 There are plenty of cycle paths and cycle hire points in the city.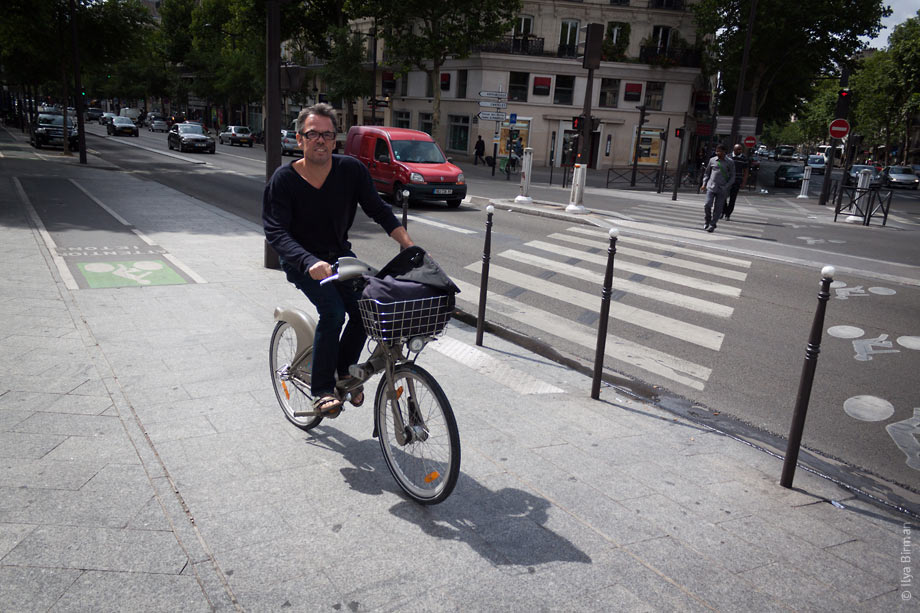 Attention, pedestrians: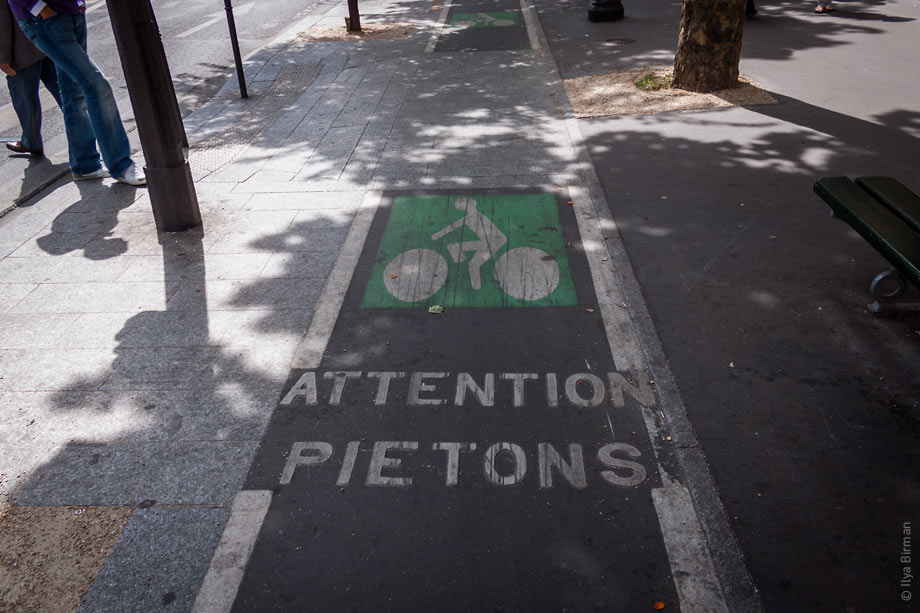 You need to cross a wide street in two phases, like in Jerusalem: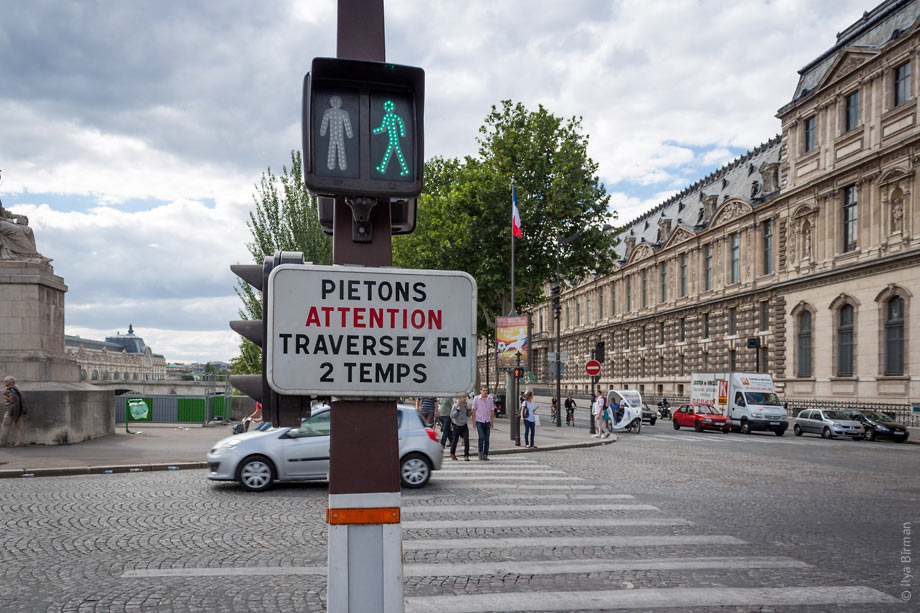 "Respect the tricolor lights" is not a patriotic slogan, it is French for traffic light: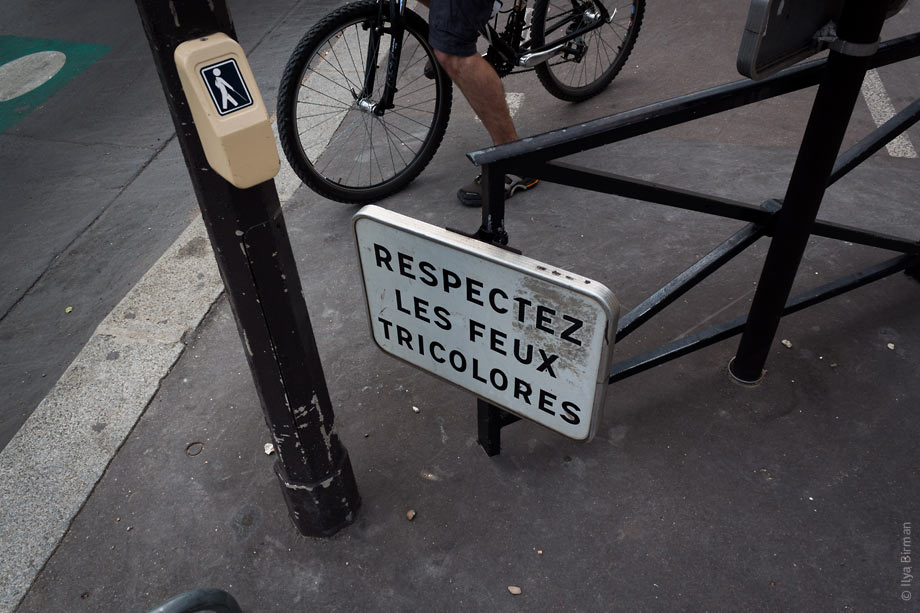 French use the ugliest way to contract the words: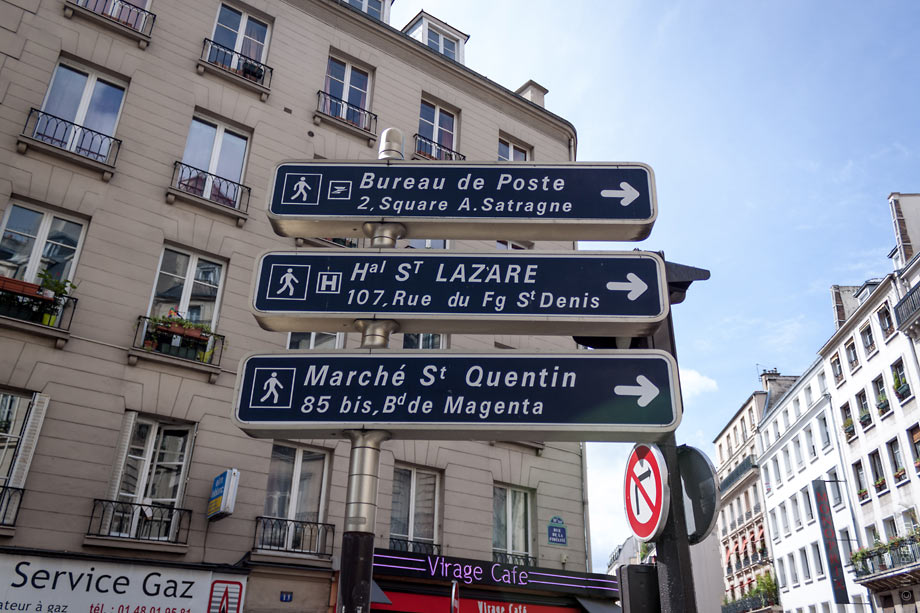 Street name signs are lovely: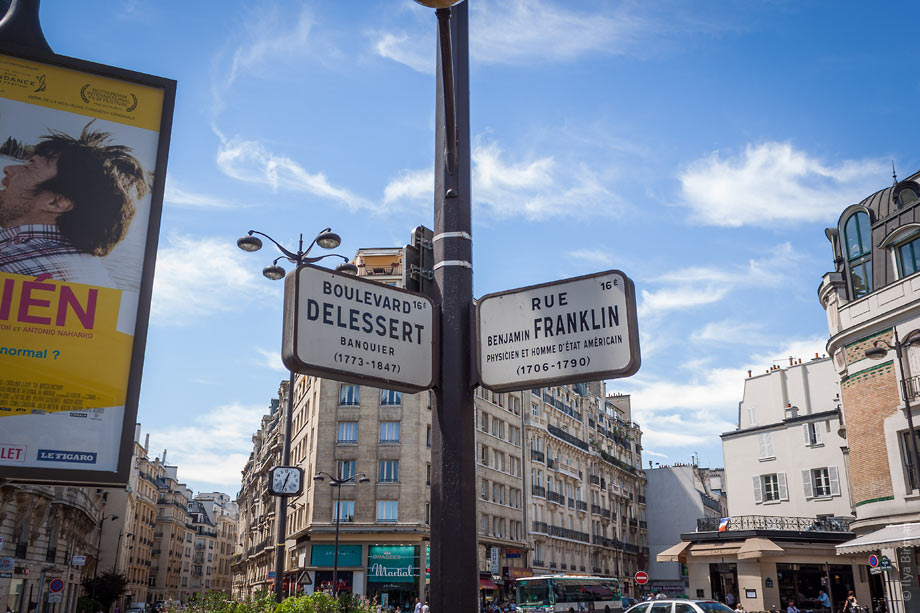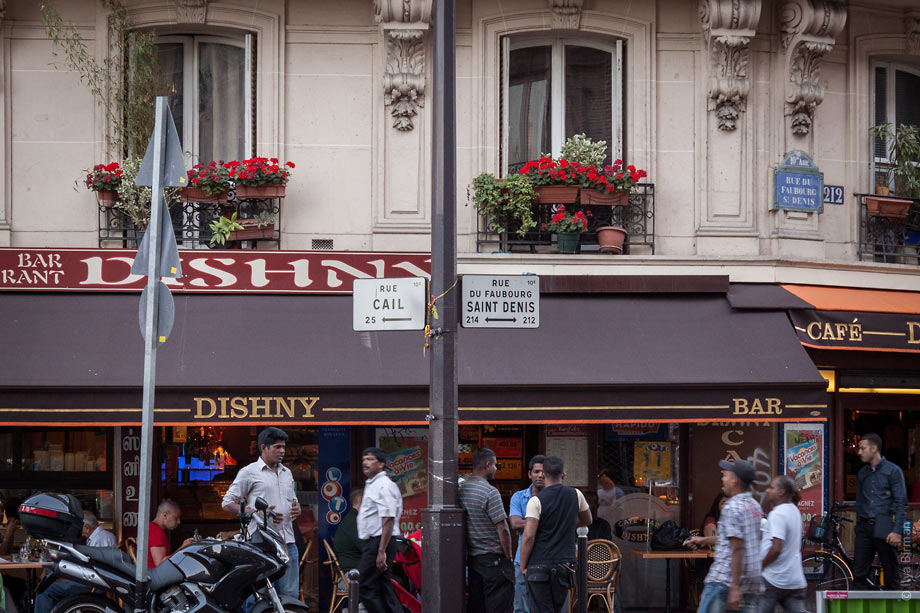 Variations of the sign asking you not to park your car at the exit: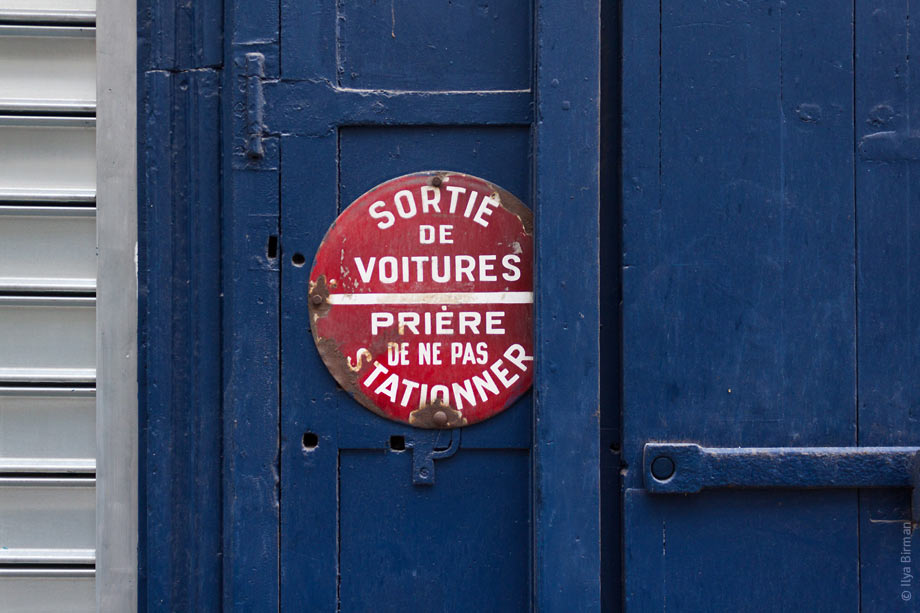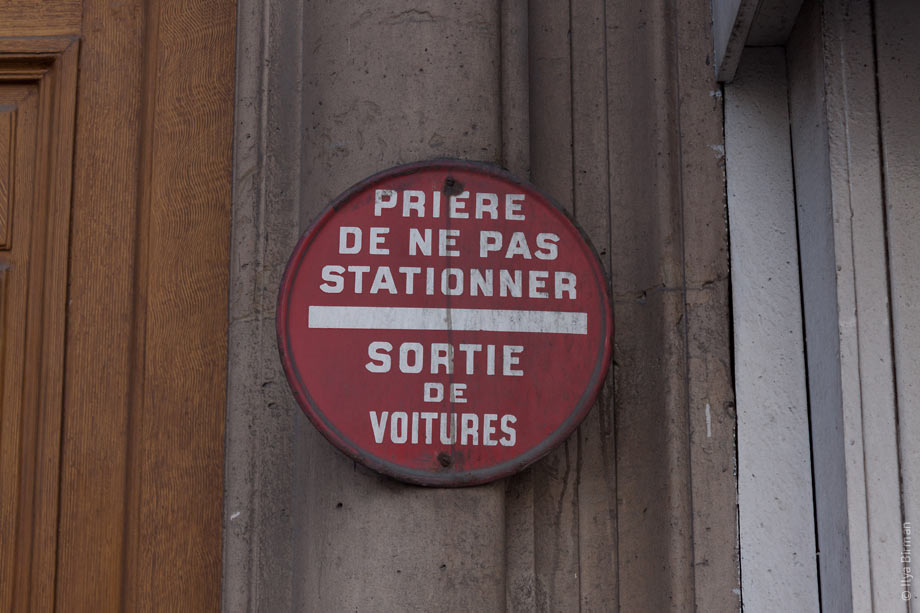 Bus and taxi lanes sometimes have dedicated traffic lights: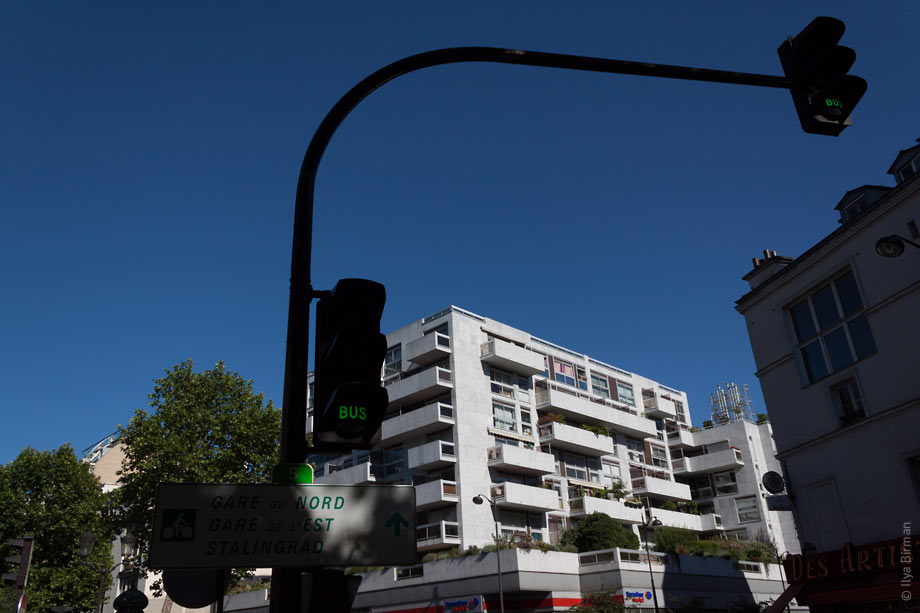 Gas station on a street: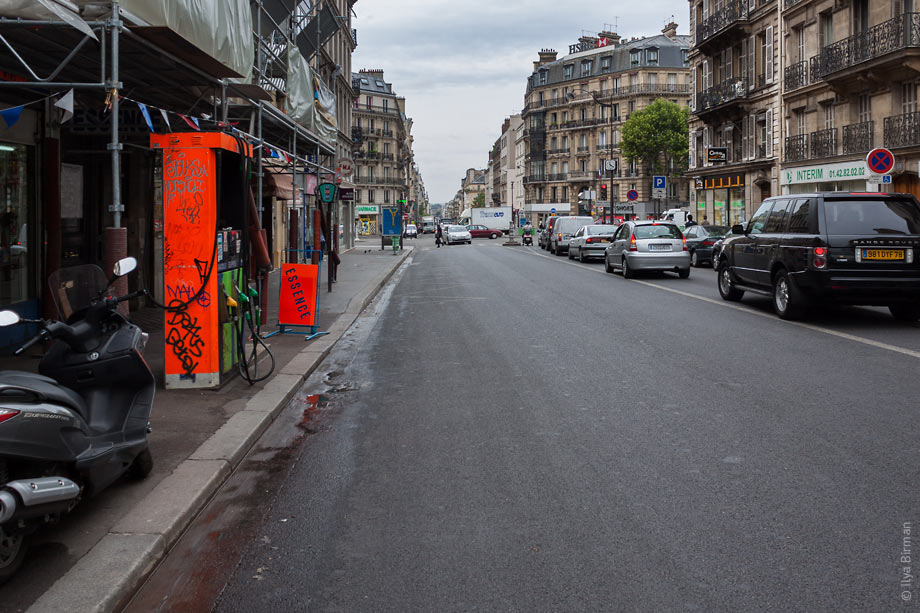 Bus route plate: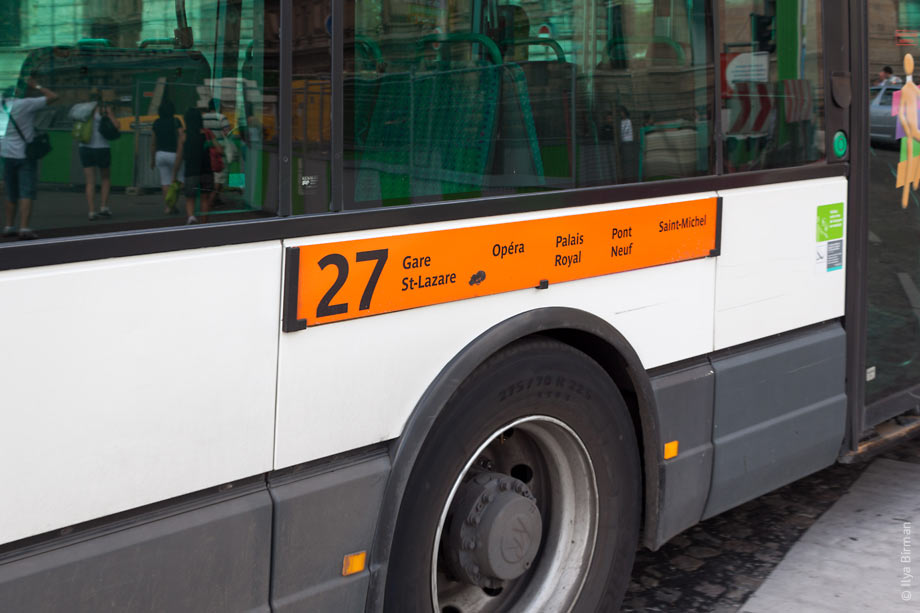 Métro train wheels have tires: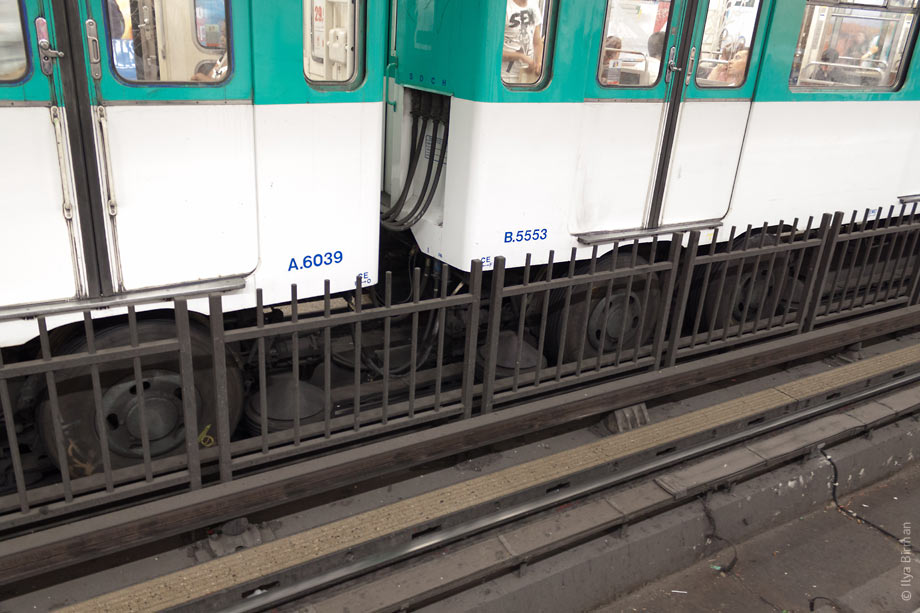 The carriages are very uncomfortable. Particularly bad are the railings put in front of the doors instead of being on the sides. They make it too hard to enter or leave a train: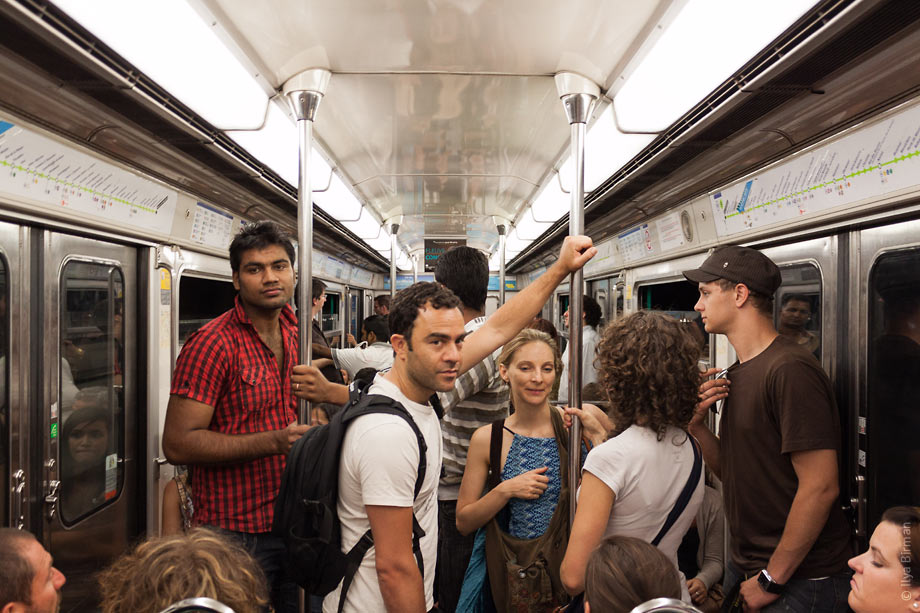 The girl takes a short break in dolling herself up to make sure she does not miss her station: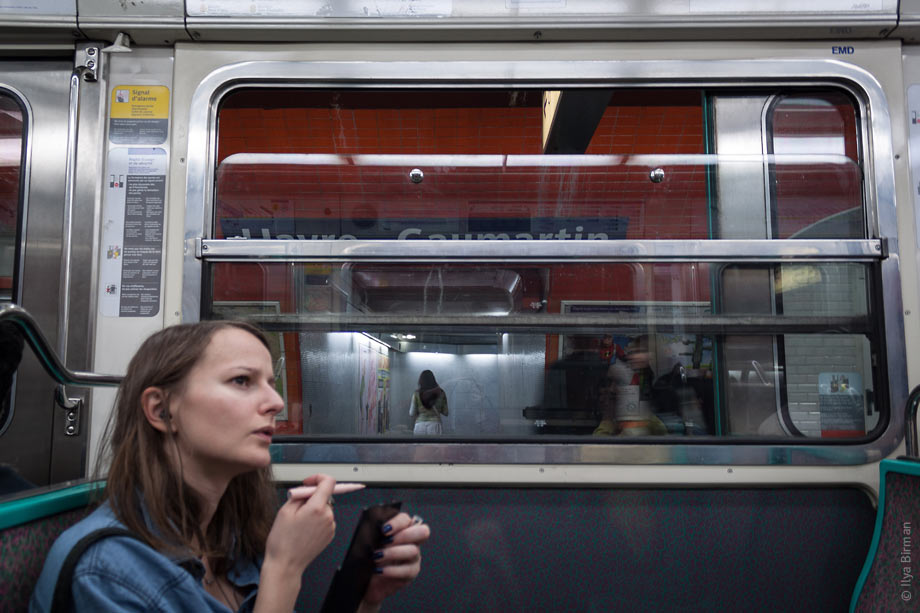 The guy takes a longer break: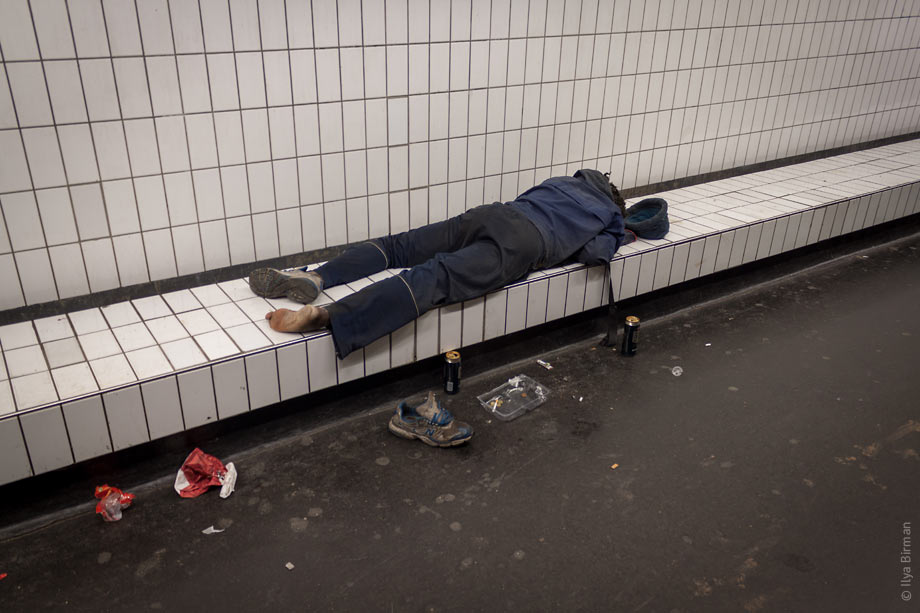 Keep right: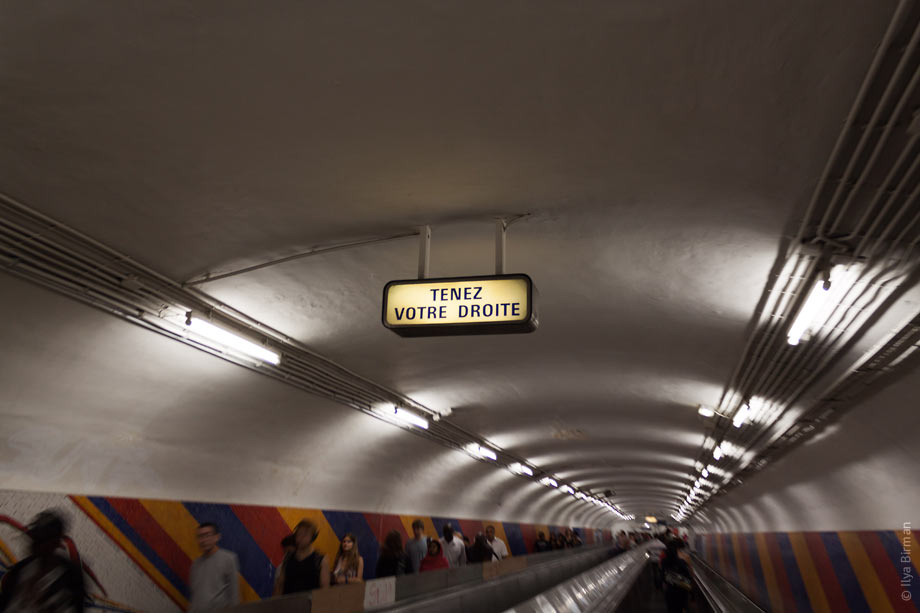 The turnstiles are almost as anti-human as in New York: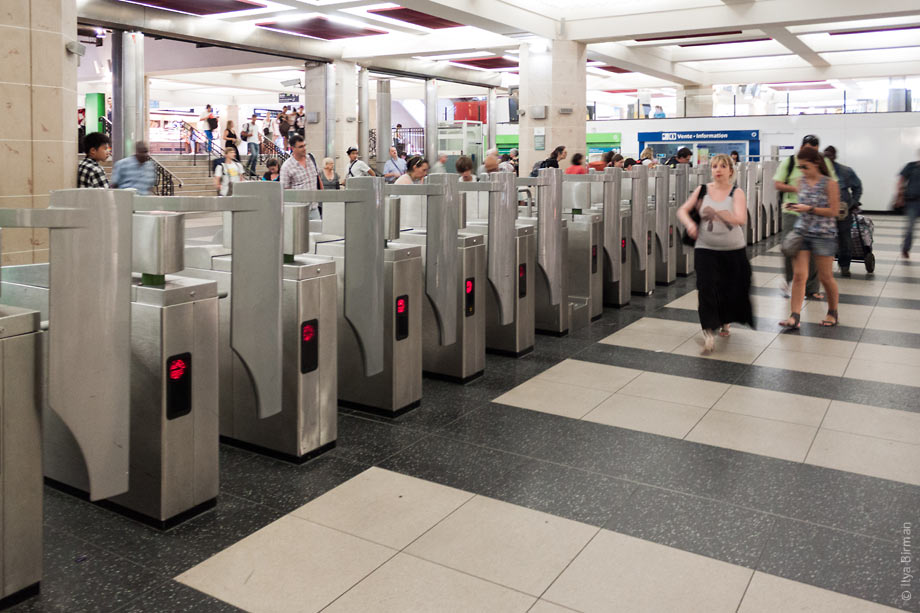 The exits are numbered: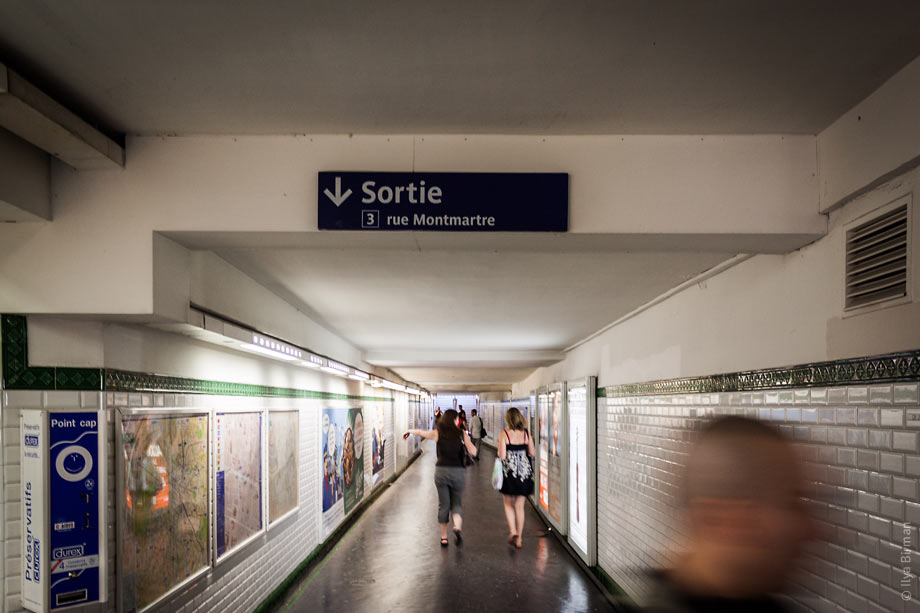 Signals and stuff: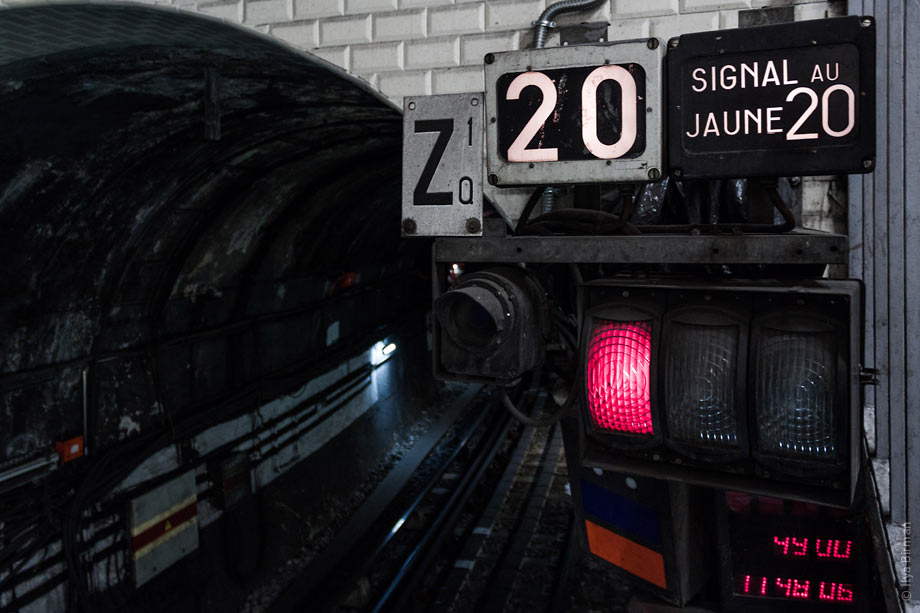 Between the stations, there are these symbols which look quite similar to the Transport for London logo: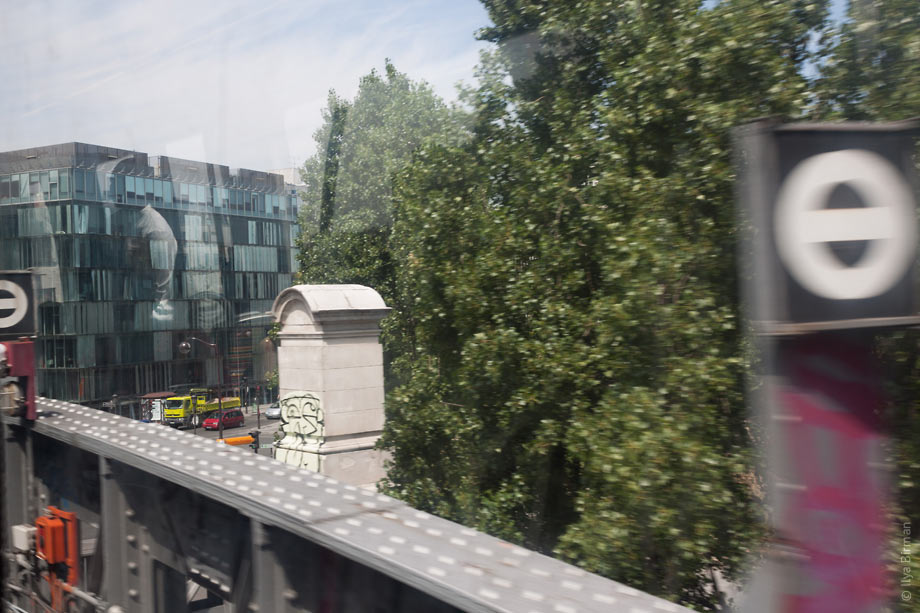 Line 14 is served by driverless trains. Pictures from the front row: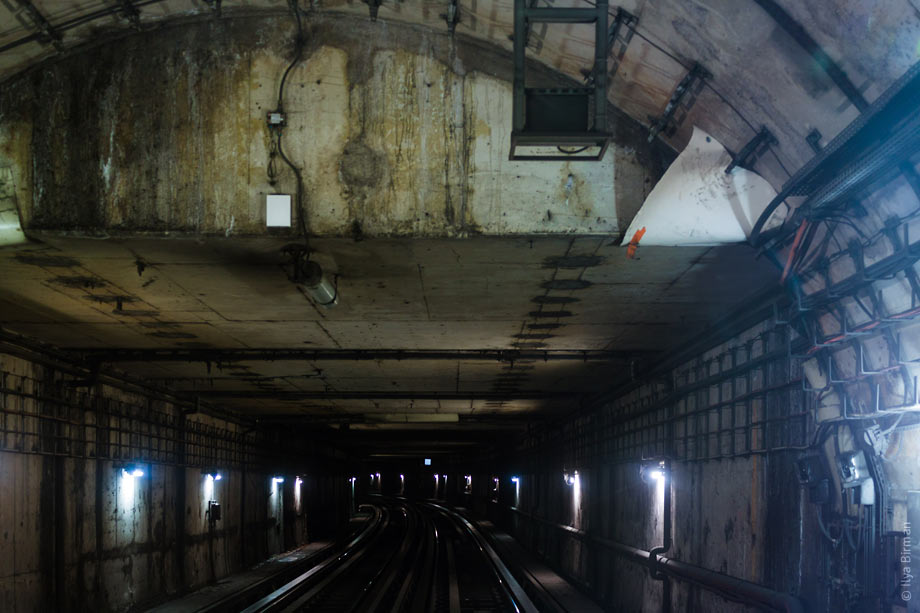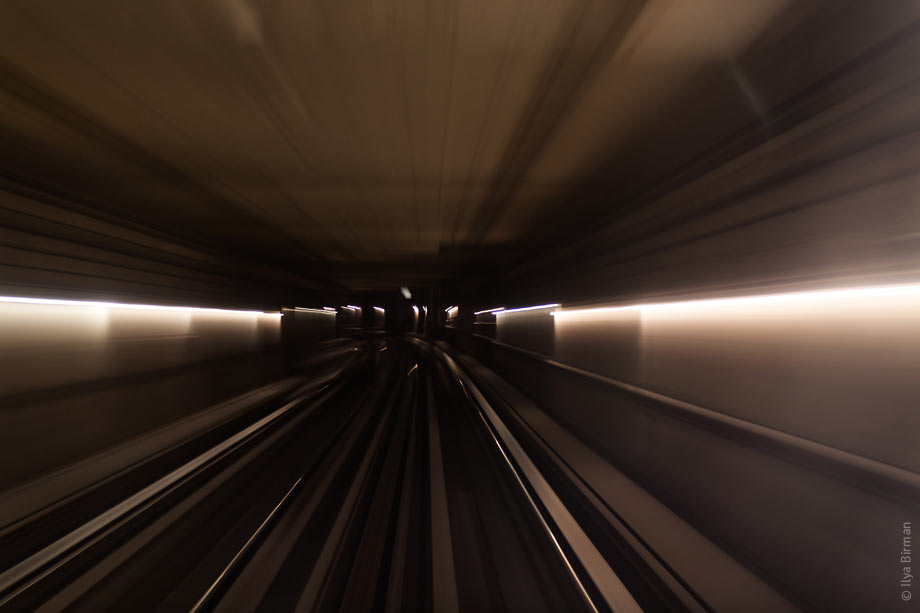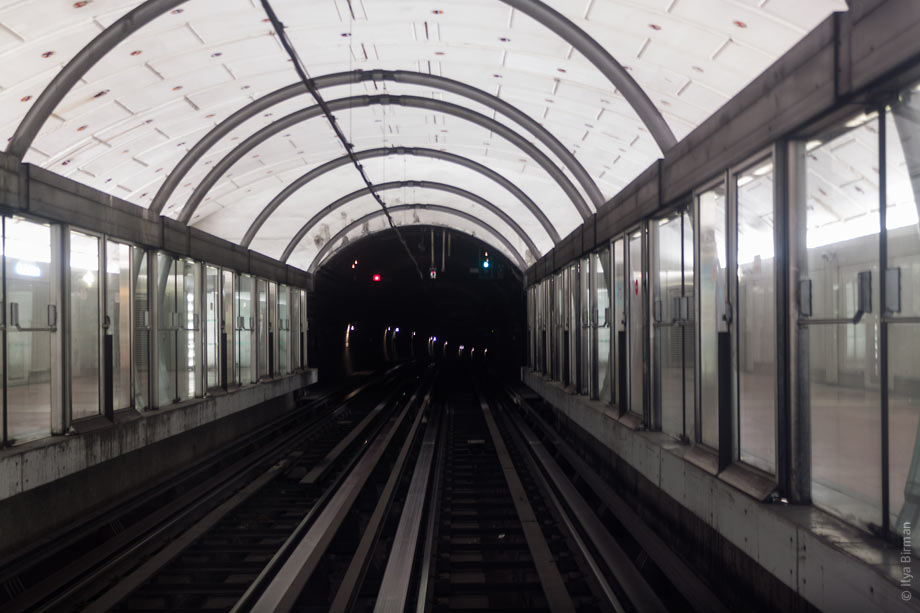 Some stations have ridiculously long names, like the line names in Moscow: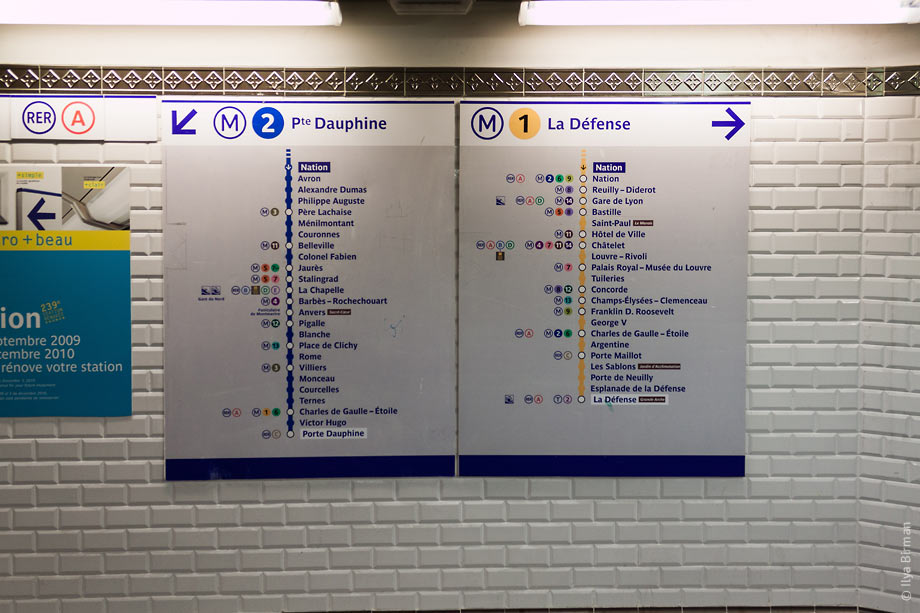 When you arrive at the Défence (the skyscraper district), the first thing you encounter is the right leg of the Grande Arche: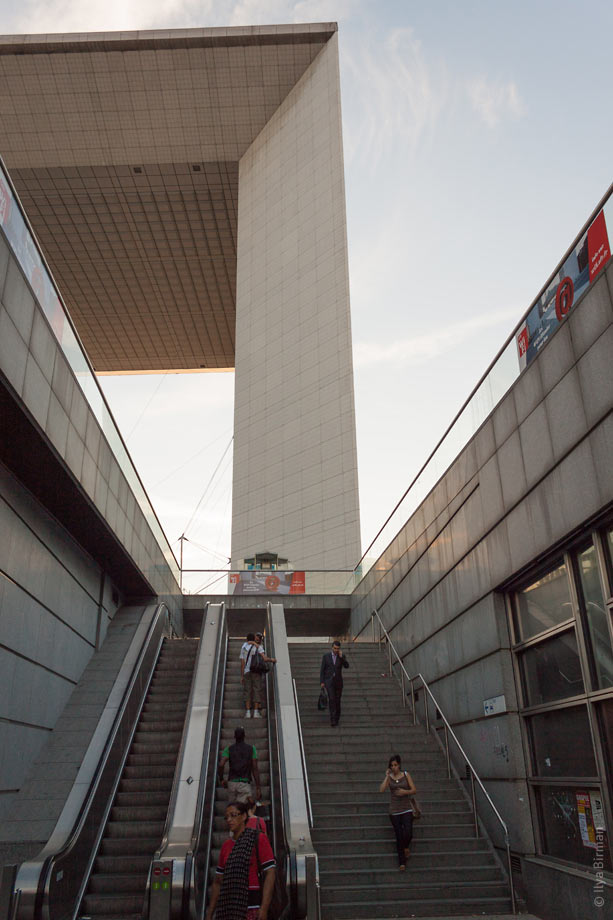 In front of the arch, there is a square with a huge white stripe: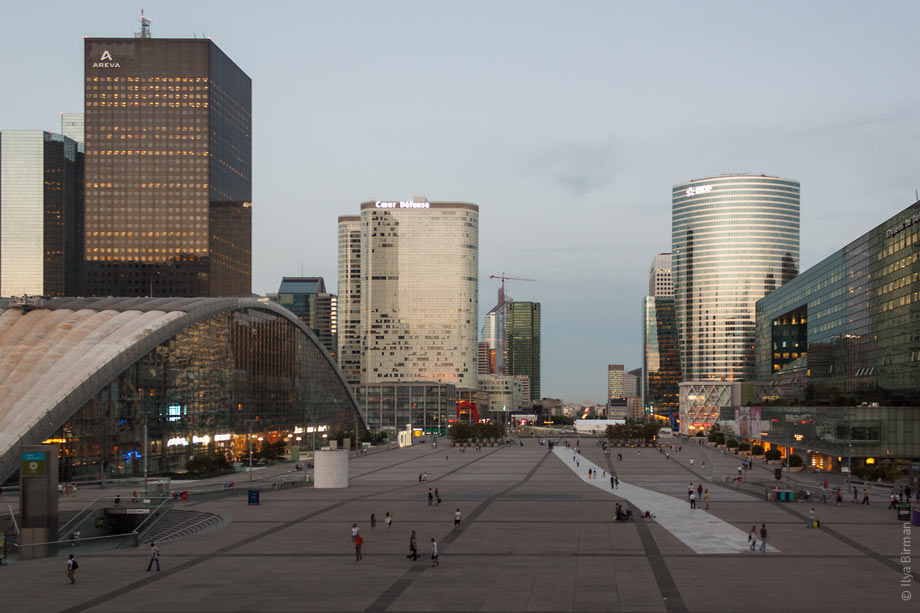 People sit on the steps of the arch: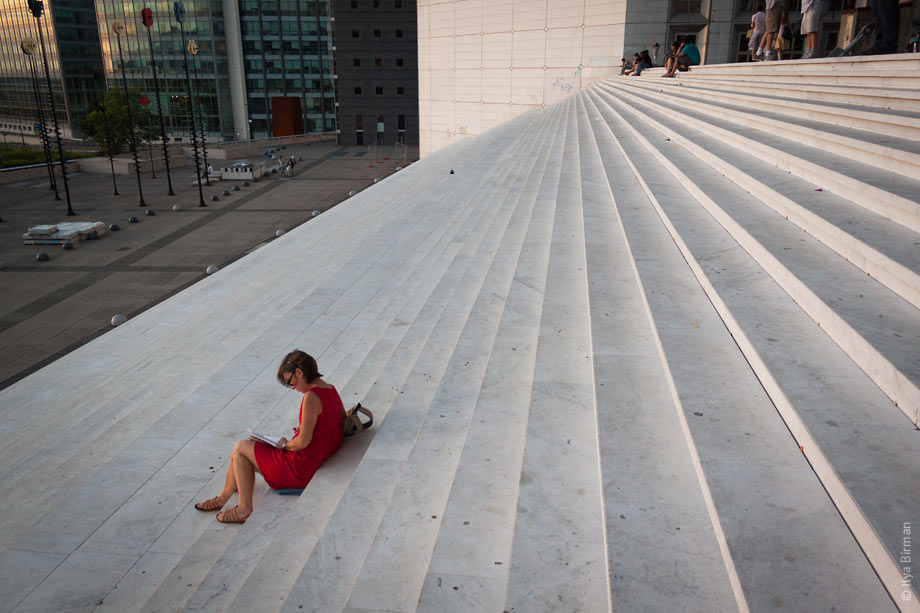 Behind the arch, there is a cemetry, above which there is a bridge: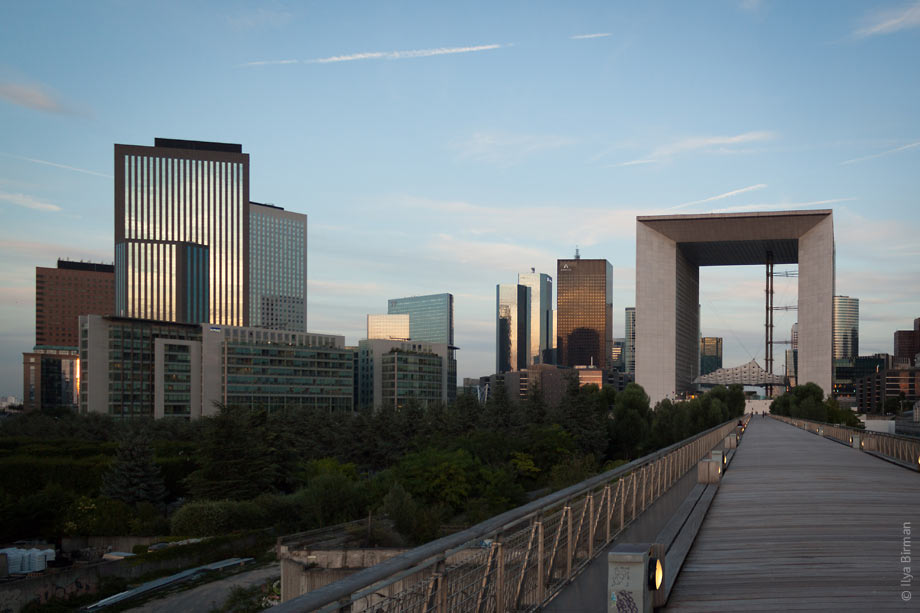 The bridge is about a couple hundred meters long, and then it just ends. A French couple says salut: