How Apple Pay could work on Apple Watch without Touch ID
When Apple revealed Apple Pay, they first showed it on an iPhone with Touch ID and later mentioned that it would also work with the Apple Watch. But how does Apple Watch know that you are you without Touch ID?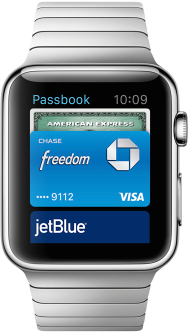 Here is an idea.
Apple Watch requires the iPhone. It would make sense if Apple Pay on the Watch required the iPhone with Apple Pay support. The only such phones are the 6 and the 6 Plus. Both have Touch ID.
Apple Watch can tell if someone is wearing it using its heartbeat sensor. When no one is wearing the watch, it will not work with Apple Pay. When you put the watch on, it will still not work with Apple Pay, as it does not know who is wearing it. As soon as you use Touch ID for the first time to unlock your phone in a close proximity, the Watch will enter a "secure state": now it knows that it is put on your hand. From that moment Apple Pay will work until you take the Watch off or the phone gets too far away from it.
The chance that you are trying to buy something before you've unlocked your phone for the first time during a day is almost zero. And in this rare case the Watch can just ask you politely to confirm the payment with Touch ID.