The Home button problem of iOS
When presenting the first iPhone, Steve Jobs said that the Home button "takes you home from wherever you are". The button was a genius invention of Apple designers.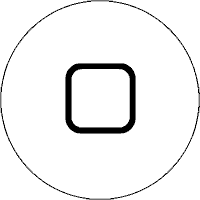 Unfortunately, in iOS 3.0 Apple has ruined it. Since then it takes you home from wherever you were — unless you are on the Home screen already, in which case it opens the Spotlight screen. Before that, the Home screen was the base of the user interface, it felt comfortable and stable, and the Home button got you there, no matter what. Now that the Home button switches you between Home and Spotlight, it no longer feels predictable and reliable.
My iPhone 4 is more than two years old. It runs iOS 6 quite slowly and the Home button is not registering clicks sometimes. So when I press Home and nothing happens, I press it again. Now, there are three possible outcomes: nothing happens again (the button failed twice); the Home screen appears (the button failed only the first time, lucky me); the Spotlight screen appears (the button has worked both times, but the phone was being too slow to react on time). There's also a contact bounce problem: sometimes a single click is registered as a double click, and the app switcher gets displayed. This is such a pain in the ass! As you may have guessed, when I want to make a real double click, the outcome is completely random.
I want back the power and simplicity of Home button. I even suggest removing the double-click app switcher. First of all, there's no reason for it to even exist. I can switch to any app by going to the Home screen and tapping its icon. But even if the switcher has to exist, let me go to it by dragging from the bottom, the way I open the Notification Center by dragging from top. Oh, and by the way, kill the freaking Notification Center. Well, this is a different story.